Highfive Premium Video and Audio Conferencing

An all-new, premium video and audio conferencing experience from Highfive and Dolby Voice.

Click here to jump to more pricing!
Overview:
Upgrade your teleconference equipment. Look your best with a premium, 4K HDR video camera built by the people at Dolby and software designed by Highfive. Focus on the important parts of the room by digitally zooming and panning the camera. Plus, zoom in on the physical whiteboard in the room, correcting for angles and lighting, so that remote attendees don't miss out on the brainstorm session.
Stunning Video Quality
Experience high quality video captured in 1080p with high dynamic range (HDR) video mapping to ensure you can make out every facial expression even with poor lighting.

Intelligently Adjusts To The Room
Using computer vision and facial recognition technology, the 4K wide-angle camera is able to automatically frame the video capture to where the people are in the room and adjust as they move. No more remote to manually pan, tilt, or zoom the camera throughout the meeting.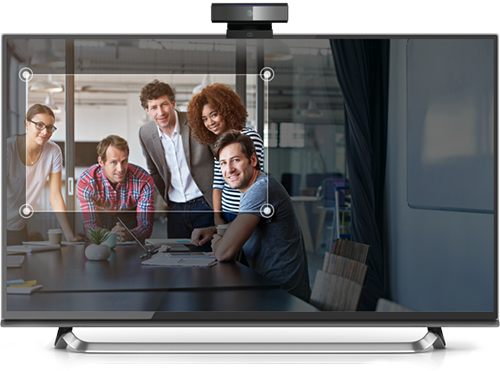 Double The Screen Real Estate
With dual-screen support, you can share content on one TV while keeping video feeds from remote attendees on the second TV. In-between meetings, the TVs turn into digital displays showcasing events booked in the room, as well as a custom message you can set.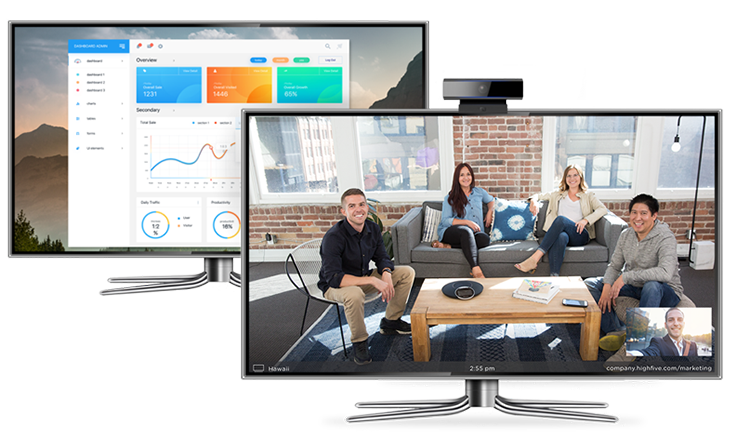 Everyone Can See The Whiteboard
Remote attendees collaborate like they're in the room thanks to a whiteboard view that can straighten up an angled board, automatically correcting for distortion and lighting. Plus, you're able to quickly toggle the view back and forth between the whiteboard and the attendees in the meeting room, so that you control exactly what you want to send.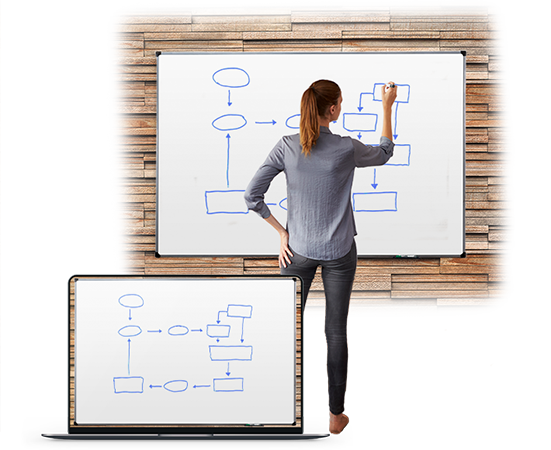 Dolby Voice Paired With Crystal-Clear Audio
The intelligent camera pairs with the Dolby Conference Phone for an all-around premium collaboration experience. Dynamic leveling technology and a 360 degree audio capture means that you'll hear everyone clearly and feel like you're all in the room together.

Features:
VIdeo Features
Dolby Voice Room adjusts to changing speakers, action, and lighting conditions, intelligently framing the discussion in real time.
Intelligent scene framing
Using a machine learning algorithm, Dolby Voice Room learns who's talking, dynamically reframing the scene to capture the speaker, while keeping everyone in view, even as you move. Just as importantly, intelligent scene framing avoids jump cuts and tight crops - the whole conversation is captured. And, with digital pan-tilt-zoom (PTZ), it's all accomplished without distracting mechanical camera noise or movement.
Whiteboard view
Dolby Voice Room scales and adjusts the view of the whiteboard, correcting perspective, so that your visuals on the side wall are front and center. Preset the whiteboard area in your room, or select via the touch-screen controls on the Dolby Conference Phone.
HDR video mapping
HDR (high dynamic range) video mapping continuously balances exposure levels, even with changing daylight or difficult room lighting, always allowing you to see in its best possible light. And with HDR, Dolby Voice Room accommodates a wide range of camera vantage points, simplifying setup and installation.
Dual Monitor support
Dolby Voice Room can support two monitors, one for meeting participants and one for content-sharing, or use both monitors for multiple participants.
Dolby Voice Camera
The Dolby Voice Camera features a 4K Ultra HD image sensor, 95° wide-angle lens, and multiple mounting configurations - easily adapting to TV or tabletop installations, with secure mounting and precise angle adjustments.
Audio Features
More than a phone, the Dolby Conference Phone is responsible for the Dolby Voice audio experience and is the ideal video conferencing control center.
Dynamic leveling
Dynamic leveling boosts the sound of quiet voices to ensure everyone can be heard, while quickly learning to distinguish speech from noise - powerfully compensating for poor room acoustics, cancelling echoes, and eliminating background noise.
Full-room pickup
Full-room pickup captures near and distant voices, as well as overlapping speech, so that the conversation being had is the conversation being heard.
Voice Placement
Dobly Voice Room makes it easier to follow who's speaking and understand what's being said by making it sound as if each person is speaking from a distinct location, the way it sounds when people are together in a room.
Dual mode device
The phone acts as an endpoint for Dolby Voice-enabled services and a SIP conference phone for IP telephony, versatile enough to equip an entirely new installation or to replace older phones in a legacy systems.
Touch-screen interface
The Dolby Conference Phones's intuitive touch-screen controls and customizable service provider apps make it easy to start, join, and run meetings. The phone provides a simple user experience in a streamlined design, serving as your single interface for video conferencing and screen sharing.
Dolby Voice
The Dolby Voice experience gives people in rooms, at their desks, or on their mobile phones impressively clear audio - actively overcoming common conferencing challenges such as disparate speaking volumes, room size, room acoustics, garbled voices, and background noise. Plus Dolby Voice audio processing is integrated seamlessly into provider services and apps.
Dolby Voice Hub Features
The Dolby Voice hub is Dolby Voice Room's dedicated conferencing platform - integrating with leading service providers and bringing Dolby Voice Room's advanced video features to life.
Integrate with service providers
The fully integrated and immersive service provider experience built with Dolby Voice Room's application ecosystem and SDK delivers an elegant and intuitive user experience that supports more use cases with fewer required room devices, and that allows participants to join, engage, and share content with fewer button touches.
Security
Dolby Voice Room's system security is designed so that both software and hardware are secure across all core components of every Dolby Voice Room. This includes the boot-up process, software updates and remote access control. The tight integration of hardware, software, and provider services ensures that each component of the system is trusted, validated and hardened.
Setup and configurations
Dolby Voice Hub and the connections to the camera and phone epitomize "plug-and-play," and the hub includes a flexible mounting system that enables hardware components to be installed in multiple configurations.
Development
Dolby VOice Hub provides a superior platform for application development and provider services, ensuring that customers have an exceptional meeting experience aligned with their service provider of choice.
Dolby Voice Room software
The hub runs Dolby Voice Room software - handling system funtctions, managing multiple user interfaces, and automatically updating camera and phone firmware and software.
Ports and connectivity

Gigabit Ethernet
Power over Ethernet (PoE) port for connecting to the Dolby Conference Phone
Three Universal Serial Bus (USB) 3.0 ports for connecting to the Dolby Voice Camera and to a keyboard for diagnostics
Two display ports for connecting to up to two TVs, and one display port for connecting to a computer for content sharing
USB OTG 3.0 port for future use
Specifications:
Premium Video and Audio Conferencing Specifications
Dolby Voice Camera

Image sensor: 4K, 13
Resolution: 1080p30 H.264 (1920x1080)
Frame rate: ≤60 fps (frames per second)
View angle: 95°
Lens: fixed focus f/2.0
Zoom: ≤2x digital zoom
Outpout format: YUV422
Connectivity: USB 3.0
Mounting: tilt range +/-20°
HDR video mapping
Intelligent scene framing

Video

Codecs: H.264 Baseline and High Profile
Encode: two 1080p30 streams
Decode: two 1080p30 streams

Dolby Conference Phone

Operating Modes: Dolby Voice, IP phone
Service provider integration: IP connection and preconfigured access to Dolby Voice enabled conferencing services
Touch-screen meeting management:

One-touch meeting start with Bluetooth Low Energy (BLE) connection on supported partner apps
Viewable roster of meeting atendees and active speaker, add/remove participants
Contact directory with one-touch dialing
Mute/unmute, three-way conferencing, conferencing join/split/hold/resume, call waiting, call history

Broad interoperability
Communication protocols: IETF SIP (RFC 3261 and companion RFCs)
Audio feature: full duplex, noise suppression, acoustic ech cancellation, voice placement
Audio codecs: DVC/G.711a/G.711u/G.722/G.729ab
Audio range: Wideband HD, 160 Hz - 8 kHz
Microphone range: 6.1m (20 ft)
Peak volume: 88 dB SPL at 1/2 meter (1.6 ft)

Dolby Voice Hub

OS: Linux
Monitor support: Dual (x2) display out ports
Content sharing: Display in port - local/broadcast and wireless sharing through partner apps
USB: USB 3.0 host ports (x3), USB 3.0 device port
Network: 10/100 Mb (RJ-45) network interface, 10/100 Mb (RJ-45) PoE 802.3af network interface
Additional: power port, security lock

Network and Provisioning

IP address configuration: TCP/IP (IPv4), DHCP/static IP
Web: HTTP/HTTPS web server, web proxy auto-detection and proxy auto-configuration
Support, WebRTC
Time and data synchronization: SNTP
VLAN support: Dolby Voice and IP telephony calls on separate voice and data VLANs
QoS support: IEEE 802.1p/Q tagging (VLAN), Layer 3 TOS and DSCP
RTCP support: (RFC 1889)
LDAP directory support
Plug-and-play provisioning enabled by Dolby Voice Console cloud provisioning service

Security

Encryption: TLS (Transport Layer Security) for SIP, SRTP encryption for media, 128 bits AES
Network Access Control: IEEE 802.1x
Built-in certificate

Development

Hub: Chromium Web App SDK
Phone: Conferencing Service Application SDK

Operating Requirements and Specifications

External power adapter: 90-240v AC input
Power consumption: Idle <2.8W, normal operating - 24w; max - 30w
Operating humidity: 20-85% (non-condensing)
Operating temperature: 32°F-104°F (0°C-40°C)
Storage temperature: -22°F-122°F (-30°C-50°C)

Hardware Dimensions (HxWxD)

Camera + Mount: 2.4 x 5.1 x 3.8 in (6.2 x 13 x 9.6 cm)
Phone: 2.2 x 11.8 x 12.6 in (5.6 x 30 x 32 cm)
Hub: 1.6 x 12.4 x 4.3 in (4 x 31.5 x 11 cm)
Pricing Notes:
Pricing and product availability subject to change without notice.