Highfive User Experience

The Conferencing Platform With an Unparalleled Users Experience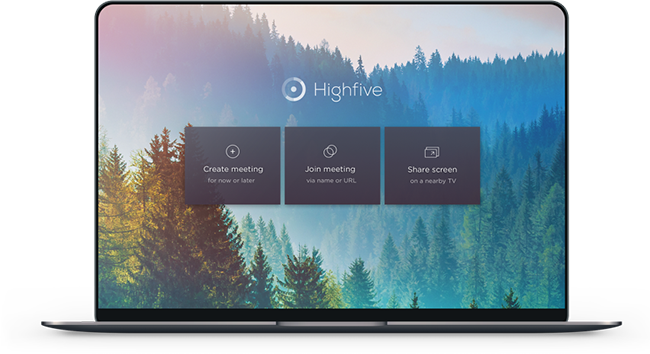 How We Make Meetings Easier
Everyone says they're easy, yet meetings always start late. The first 15 minutes of every meeting is wasted fumbling with the conference pin code, trying to figure out which dongle you need to screen share, or downloading the right app. With Highfive, meetings get started on time because we make everything easier from start to finish.

No downloads
Easily join meetings directly in your web browser with no app downloads! Just click the Highfive URL and you're in the meeting.

Simple URLs
People use words, not randomly generated numbers and letters to communicate. That's why Highfive meetings include simple URLs that you can customize.

Unlimited meetings & minutes
Meet without limits. Just have your meetings without worrying how much you're using Highfive. Nobody is limited to the meetings of a certain length or charged for using Highfive more often.
Anyone can screenshare
With Highfive, there's no more passing the baton. Anyone in the meeting can share the screen, even guests. Meetings run smoother when you don't have to give someone permission to participate.

No pin codes
With domain-based security, meeting guests are entered into a virtual waiting room until someone in your company lets them in, so meetings stay secure without needing to know the secret word of the day.

No passwords
People already have a million passwords to remember, so it's no wonder they end up just using the same one for everything. That's not very secure, which is why we got rid of passwords. Just confirm your sign-in request via your email, and you are always logged in on that device.

Connect from any device
With apps on web, PC, Mac, iOS, or Android, you can join a Highfive meeting from wherever you are.

Unlimited phone dial-in
No more counting minutes. No matter where in the world you're calling in from, you receive unlimited phone dial-ins with no per-minute or per-meeting fees. Plus, with Call Me, just type in your phone number, and we'll just call you into the meeting.

Integrated with Google Calendar and Outlook
With just a click, seamlessly add Highfive links to all of your meetings with integrations in both Google Calendar and Outlook (PC, Mac, and web).

Integrated with Slack
Start a conversation on Slack, and end it on Highfive. Send a meeting link to an individual or a whole channel using the "/highfive [meeting name]" slash command on Slack or send an invite link directly into Slack from within Highfive.

Skype for Business
Keep using Skype for Business for your text chat. Once it's time to hop in a video meeting, just invite your contacts from within your Skype contact list or chat conversation.

Single sign-on
Log on to Highfive fast using G Suite, Active Directory, or Okta.

Unlimited phone dial-out
Go ahead. Call anyone in the world using the Dolby Conference Phone. There's no long distance fees or per-minute charges.

Industry-leading audio powered by Dolby Voice
You can't have an effective meeting if you can't hear the other participants, and that's why every Highfive meeting includes industry-leading audio powered by Dolby Voice. Remove all the background noise. Get rid of echo cancellation. And remote meetings feel like in-person ones.

Stereo, spatial voice separation
Thanks to audio technology from Dolby Voice, you can hear every voice in a meeting separately. That way you can focus on what you want to listen to instead of only hearing that side conversation. It makes you feel more like you're all in one room together.

Tap to join & end meetings
Thanks to an integration with your calendar, you can tap to join meetings scheduled in a meeting room directly from the Dolby Conference Phone. Done with your meeting? Just tap "Leave Meeting." No additional tablets or computers in the room needed.

Wirelessly move meetings between devices
Sometimes your meeting runs over, and you're getting kicked out of your meeting room. No worries! With one click seamlessly move the Highfive meeting back to your laptop or mobile device and take the meeting with you. No more "I'll call you back."
No dongles
With Highfive, anyone can wirelessly project their screen from a PC, Mac, or Android device to the TV in the room. No dongles needed.

No remote controls
Physical remote controls are a pain. They get lost easily and have batteries that need to be replaced often. That's why we got rid of them. Your personal device is the remote. You can even control meetings from the Dolby Conference Phone in the room.
See the meeting room's schedule on the TV
Always know if a meeting room is available for a quick, impromptu meeting or if your current meeting can run over a little bit thanks to an integration with your calendar that shows the meeting room's schedule on the TV in the room.

Intelligent scene framing
As a remote attendee, it's hard to feel like you're part of the meeting if everyone is really small on your screen. With Highfive Premium, the Dolby Voice Camera automatically frames the video feed to the people in the room even adjusting as they move or more people join.

Whiteboard view
Whiteboards tend to be hard for remote attendees to read, thus making it easy to disengage. With Highfive Premium, you're able to toggle the camera view to the whiteboard, and it will auto-correct for distortion and lighting so that everyone can collaborate.